How to get bitcoin and use it on Mooning Market
---
This guide explains how to get bitcoin and deposit it into Mooning Market.
Mooning market is a cryptocurrency marketplace, not a cryptocurrency exchange. You can deposit Bitcoin into MooningMarket from virtually any exchange.
---
Buying Bitcoin From a Reputable Exchange
There are many exchanges that sell bitcoin, we recommend choosing from our trusted list.
Once you have bought bitcoin from an exchange, login to your Mooning Market account and create a bitcoin deposit address. To create a deposit address click the Wallet link at the top of the page.

Then click the Deposit link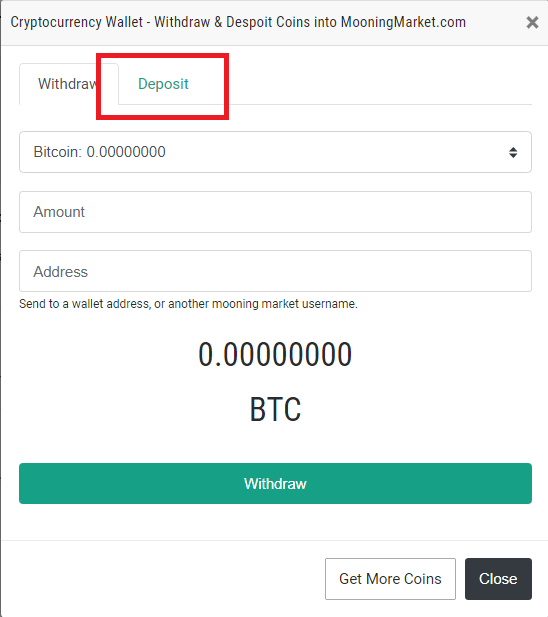 Click Generate Desposit Address to create a deposit address. You will use this address to deposit bitcoin into Mooningmarket.com. Your exchange will provide you with a withdraw option. Use this deposit address to send your bitcoin to Mooningmarket.com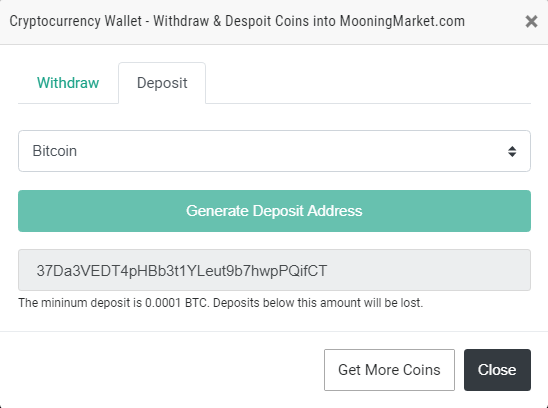 Your exchange will give you a transaction hash. You can see how many confirmations your transaction has by checking the transaction hash on a block explorer. Once the transaction has been confirmed, you will see your funds in Mooning Market.
---
Purchasing an item
Once you have decided on an item you wish to purchase, you should make sure you thoroughly read the ad description. If you wish to know any further details about the item, you are encouraged to send a message to the seller, by clicking the Contact Seller button.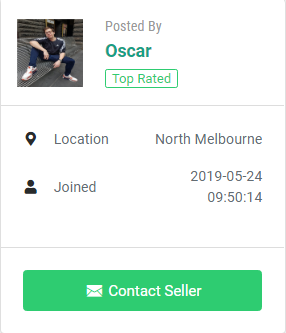 When you are ready to purchase an item, you can press the Buy Now button at the bottom of the ad.

You must enter the full name of the recipient of the item, as well as their address. PLEASE NOTE: International shipping costs will vary from domestic, so make sure you check the added shipping cost before clicking the Confirm button.
---
After purchasing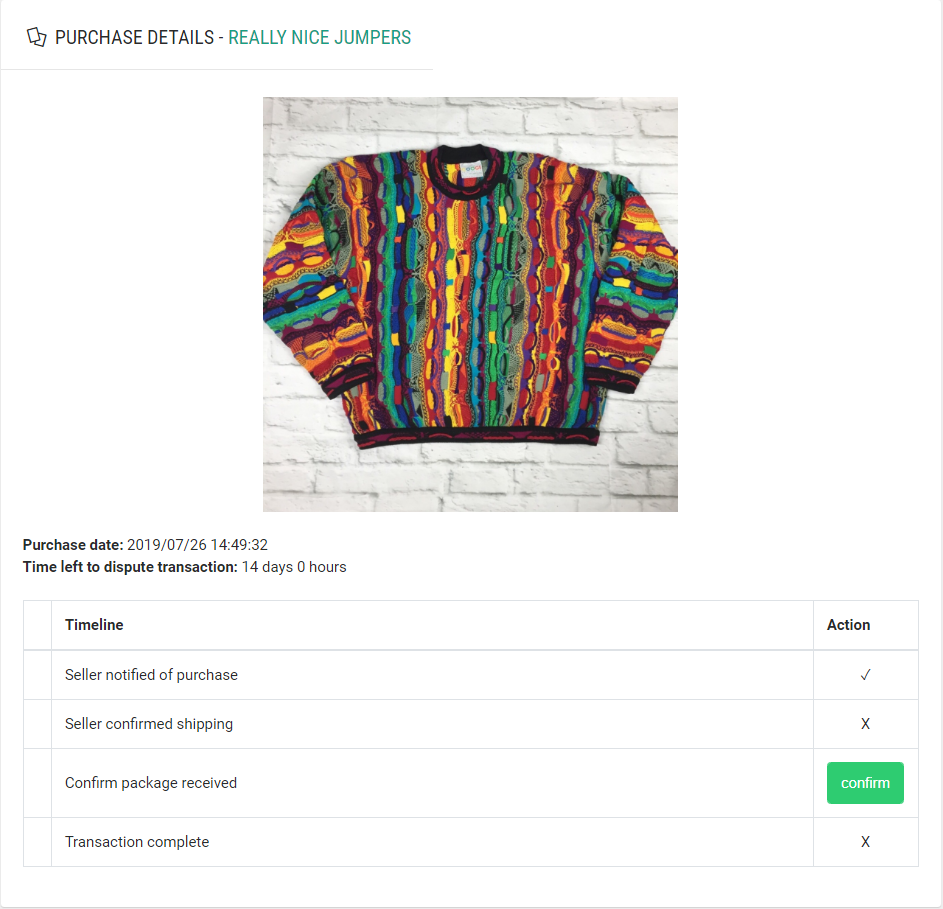 Once you have made your purchase, the seller of the item must provide a shipping number within 7 days, or you will be refunded the full amount of the purchase price, and the purchase will be canceled.
You will be notified via email, when the seller has confirmed that they have shipped your item. You will also receive a tracking link to follow the progress of your item. If you receive an incorrect, or incomplete tracking link, you should dispute the purchase immediately.
Once the item arrives, you can confirm you have received it as expected, or disput the purchase, if the item is damaged, broken or incomplete.
You and the seller will have 7 days to provide evidence of a damaged, broken or incomplete package, at which time a moderator will resolve the issue. If there is a dispute, the losing party will also incur a reputation penalty.
---
Disputes:
Disputes and cancellations may only be invoked if there is a problem with the order. Changing your mind is not a valid reason to dispute your purchase.
Below are valid reasons to dispute a purchase
Tracking number not provided after 7 days
Item was damaged
Item was not as advertised
---